Ten days in Indochina: Vietnam, Laos,
and Cambodia — No­vem­ber, 2016
This year, Country Walkers was offering a tour in Indochina, and since one of my lifelong goals has been to visit Angkor, I was more than happy to second Mark's interest in visiting there. Having hit my eightieth birthday this year and thereby achieving geezerhood, I was a little worried that I might have difficulties on the walks, but that turned out to be doable, and the trip as a whole was completely enjoyable. As CW is also known as Country Eaters, and as I already knew the dis­tinc­tion of Indochinese cuisine, the chance to have won­der­ful food was an ad­di­tion­al draw.
Mark chose Los Angeles as our city of departure from the USA, with the idea that we could get together with as many as possible of our old Pasadena friends if we just stayed there a couple of days extra. Fortunately, our plea of homelessness in LA was kindly answered by Ghassan and Kathryn, who have a comfortable house in South Pasadena where we could stay with them for a few days. Our sched­ule was to leave from the Minneapolis-Saint Paul airport on the first of the month (Tuesday), and fly off early Friday 4 No­vem­ber to Seoul, where we could transfer to a flight to Hanoi. Crossing the International Date Line meant that we arrived the same day, but that day was Saturday.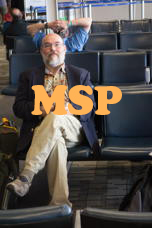 On the first page of this account I have related all the preliminary doings that I mention above: preparations, our time in Pasadena and South Pasadena, and our flight across the great ocean, from before 1 No­vem­ber, through the fifth. Read all a­bout it.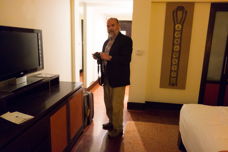 The next day was a short one: arrive in Seoul in the evening, transfer to a plane to Hanoi that gets us there not long before midnight, and get settled in our hotel. See what I have to say about it.
Sunday 6 No­vem­ber, the tour began in earnest. And it was so full that I've divided the description into three pages, for morning, afternoon, and evening. You'll probably want to start with the first installment.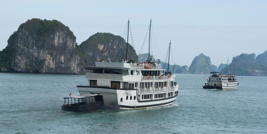 Monday 7 No­vem­ber, we drove to the port of Ha Long and em­barked on our cruise vessel for our stay in Ha Long Bay, a very big tour­ist attraction. My account is in two parts, roughly before lunch and from afternoon to evening.
Tuesday, 8 No­vem­ber, after sleeping and break­fast­ing on our boat, we went off to several touristy and truly in­ter­est­ing destinations, the first of them a big and not at all claus­tro­pho­bi­a-in­duc­ing limestone cave. See the pictures and des­crip­tion.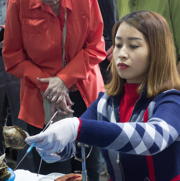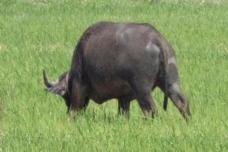 Wednesday, 9 No­vem­ber was a less action-filled day, lots of travel, lots of waiting. But we did get to a pearl-culturing es­tab­lish­ment. Read it all.
Thursday, 10 No­vem­ber was a busy day indeed, with many different experiences, from being measured for a tailor-made shirt, to getting up close to a placid water buffalo on a walk through farmland. Read about all those ex­per­i­ences.
Friday, 11 No­vem­ber, we left Viet Nam, to begin an all-too-short visit to Laos. I think Mark and I enjoyed this country more than the other two, and maybe you'll see why in my account of this day.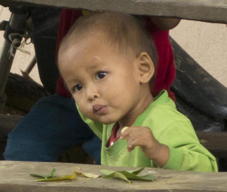 Saturday, 12 No­vem­ber, a lot of walking, prefaced by passage through a couple of little villages. Also a most unusual adventure, towards the end of the hike. But you'll have to go to this day's page to find out about that. And there's a separate page for the rest of the day, after the hike.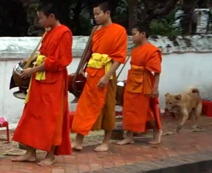 Sunday, 13 No­vem­ber, walking in the morning, waiting for a plane in the afternoon. In spite of having only a half-day's adventure, there are still a lot of photographs to see.
On Monday, 14 No­vem­ber, there were so many things to see and photograph (I took about 300 shots), that I've divided my account into three pages: for the morning, when we visited the River of a Thou­sand Lingams; for the early afternoon, when we filled our cameras' memory cards with pictures of Ta Prohm; and for the later afternoon, when we marveled at the mon­u­men­tal architecture of Angkor Thom.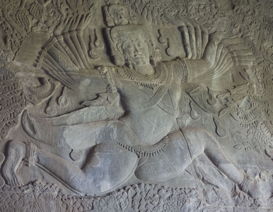 This was the big day, Tuesday, 15 No­vem­ber, when we finally got to Angkor Wat, a truly amazing (and huge) temple. I've shown only a part of the pictures I took then, but you can see them on that day's page.
And our last day, 16 No­vem­ber was nothing but travel, from Bangkok (since we had flown there the previous evening) to Seoul to Los Angeles to Minnesota. A lot of traveling, with a lot of in-air sleeping. Few pictures, few words, but you can see what I have to say about it.