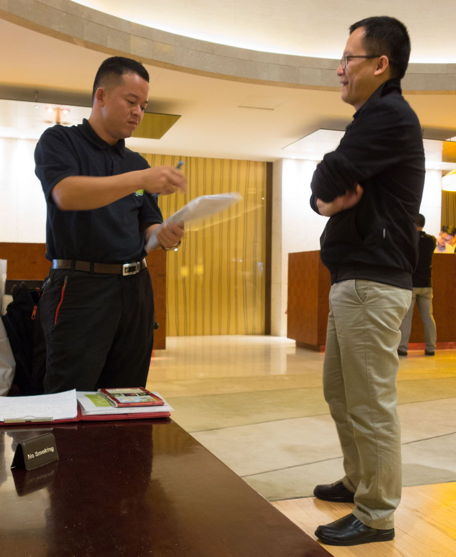 Hung and Truong in the lobby of the Intercontinental
Sunday, 6 November:
our first ( full ) day in Hanoi
1. Old Town Hanoi
First things first: we went down for breakfast, where we found an unusually varied and complete buffet spread out: regular European breakfast, Vietnamese specialties, and what looked to me more like Chinese dishes.
Either before we sat down or right after breakfast, we met our guide for the whole tour, Hung. He didn't go into any details about the routine just yet, because most of the other travelers hadn't come down for breakfast yet.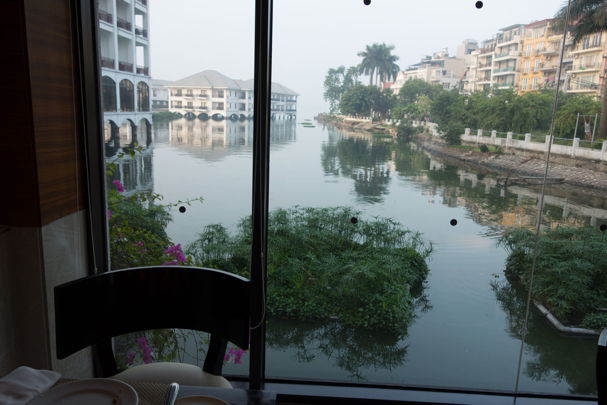 If you look out from the dining room, you see how
the Intercontinental sits on the lake. (Bigger view.)
After breakfast, all the walkers gathered in the hotel lobby and met our guides. Hung is the guide for the whole tour,and Truong, who would be our guide for the period that we were in Hanoi. Let me quote from my journal:
«Met all the other walkers, and went off in an overlarge bus to the Old City, where we walked for about two hours. We had a local guide, Truong, who gave us insights and information about history and culture. The traffic and the crowds were more than we had ever seen before, I believe. It might have been nice to have a less-constrained schedule, to browse and maybe buy a few things.»
Kids in toy cars, busy street scene (13-second clip).
In the block of pictures to the right, I've tried to show how crowded it was this Sunday: everybody seemed to be outdoors, especially the kids. No­body explained what was happening in the area filled with kids and small cars.
Exploring a crowded city! While walking, I was almost always to the rear of our group, and therefore in these pictures, you usually get the back view of our fellow walkers. In the top left picture to the right, for instance, that's Terry and Lyn in the foreground; in the left-hand picture on the lower row, that's Terry again retreating from the camera.
We walked past the Catholic cathedral, where a couple were having wedding pictures taken, and then through a market area. I was fascinated by the quantity and variety of stuff on sale, es­pec­i­al­ly the religious goods on dis­play. Everything for your home shrine,
We walked through narrow alleys and confined passageways, some­times right past people sitting or squatting low for their midday meal. My journal explains: «We stopped in at a restaurant that specializes in their own recipe for Egg Coffee. This might be com­pared to softened coffee ice cream floating on strong coffee. It was very creamy, very sweet, and de­lic­i­ous, though I would have asked for the underlying coffee to be not itself sweetened.»
We walked through every type of urban neigh­bor­hood, but always crowded, till we got to the little place serving the Egg Coffee. At the lower left in the block of thumbnails to the left, we all are sitting enjoying the confection. Facing us, you see Terry in the distance, then Sheri, Lyn, Jack, and Judy; in the blue t-shirt is Tom, standing beside Truong.
More walking, and then we drove to our restaurant. I took no pictures there, though Mark probably did. Maybe this is the time to say that almost all our meals on this tour were served Chinese-res­tau­rant style. That is, large platters or bowls of several main courses were pre­sen­ted to us, and we would serve our­selves out of these. The food was always very very fine, but I can't say that we got any meal that was spectacular and mem­o­ra­ble in the way that we did in, for example, Iceland or on the Amazon.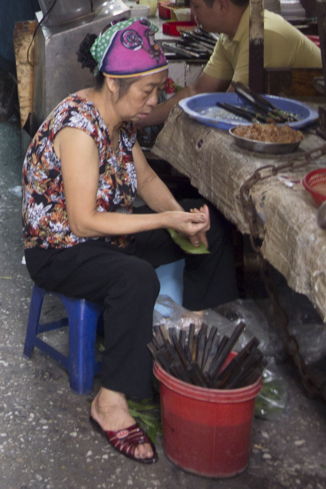 This image is a cropping from one of the pictures
above, but I liked the rhythm of it, with its repeated
ovals, so much that I decided to give it prominence.
(Bigger version.)