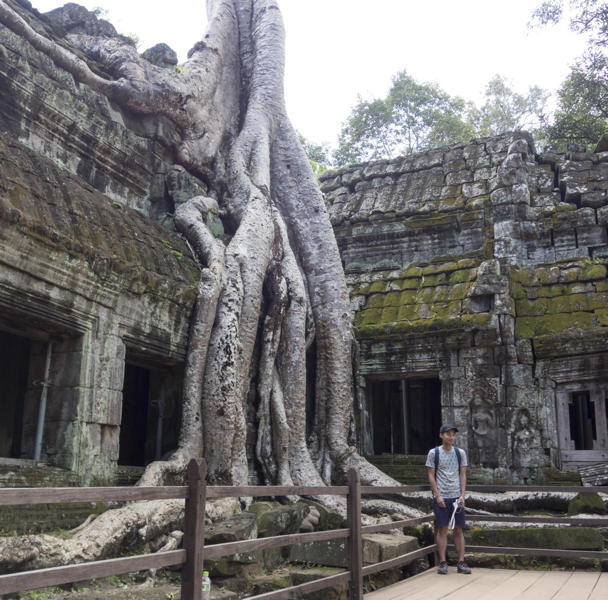 In Ta Prohm. This is the kind of thing you've seen so often in pictures of Angkor
and environs: a ruined building overgrown by the roots of a giant tree.
Monday afternoon, 14 November:
part I: Ta Prohm
After lunch, our guide Savy came into his own, since we would be visiting two of the three big historical landmarks that we (or at least I) had made this voyage for. The first was Ta Prohm, a temple dated to late 12th and early 13th centuries. Note that this is exactly the time-frame during which the Cathedral of Chartres was constructed in France. So you would not call these monuments ancient, just old.
There's not much to be said about the pictures from this afternoon, just admire and wonder at them. And wonder exactly what is being portrayed.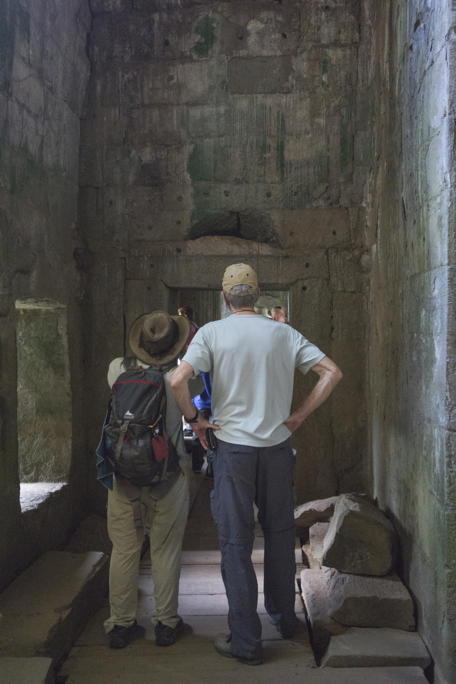 And so we wandered around Ta Prohm, ad­mir­ing the num­ber­less statues and end­less ruins. I took loads more pictures than I'm show­ing on this page, but one stands out, and that's the picture to the left of John and Terry pausing in a gallery.
I guess we passed this little band on our way out of Ta Prohm.
I could have stood and listened much longer than we had time for. (21-sec.)