2016 Indochina Travelogue

This panorama was taken on the morning November 8th in the cove called Dong Tien Lake in Halong Bay where the Classic IV had anchored. This anchorage was apparently reserved for Bhaya Cruise vessels.
Here is my narrative describing our trip to Indochina (Vietnam, Laos, and Cambodia). I've linked the corresponding pages from Jonathan's web site so that folks can jump back and forth between them. I took 2,846 photos and 124 video clips totaling (39.8 GB) while on the trip - the images on the site represent a subset of those pictures.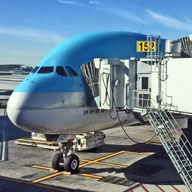 01 to 05 November
Getting there: Saint Paul
to Pasadena to Hanoi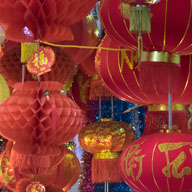 06 November morning
Hanoi Old Quarter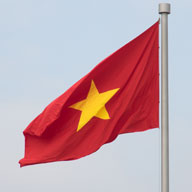 06 November afternoon
Ho Chi Minh District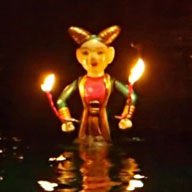 06 November evening
Water Puppetry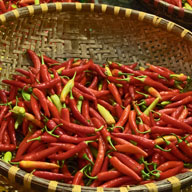 07 November morning
Hanoi Flower & Food Markets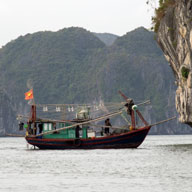 07 November evening
Ha Long Bay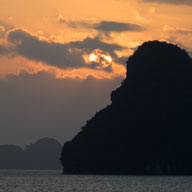 08 November morning
Ha Long Bay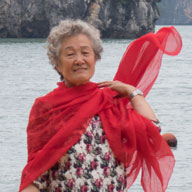 08 November evening
Ha Long Bay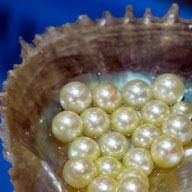 09 November
Ha Long / Legend Pearl
Travel to Hoi An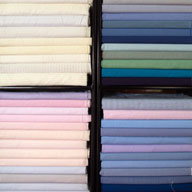 10 November morning
Hoi An / Yaly Couture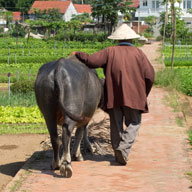 10 November afternoon
Hoi An countryside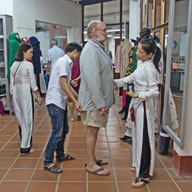 10 November evening
Hoi An / Yaly Couture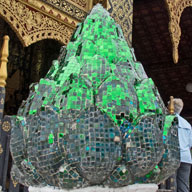 11 November midday
Luang Prabang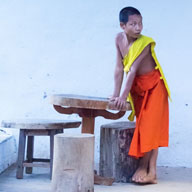 11 November evening
Luang Prabang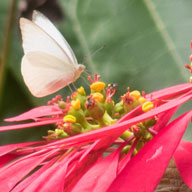 12 November morning
Lao villages & jungle hike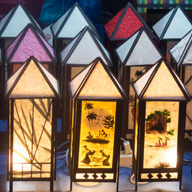 12 November evening
Kuang Si Falls
& night market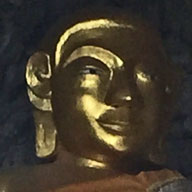 13 November
Mount Phu Si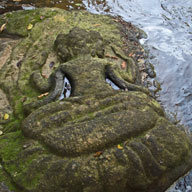 14 November morning
Kbal Spean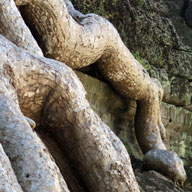 14 November afternoon
Ta Prohm & Angkor Thom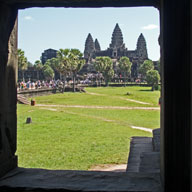 15 November
Angkor Wat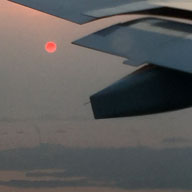 16 November
Bankok to Seoul
to LAX to Saint Paul
The background on the webpages for this trip is a photo of the woven bamboo side of a house in the Khmer village we walked through in Laos on November 12th. I removed the color and retinted the image to match the color scheme of this website.
The images on the site, unless otherwise noted, were taken either using an Olympus Stylus 1 (3968×2976 pixel RAW file, ~13 MB and videos), an Olympus Stylus 790 SW (3072x2304 pixel JPEGs, ~3.5 MB), or an iPhone 6 (panoramas, videos, 3264x2448 JPEGs ~1.6 MB). I occasionally had a telephoto supplemental lens attached to the Stylus 1, especially for the wildlife shots. On the rainy days, I used the 790SW camera as it is waterproof.
On this site, I've whittled the image size down to two sizes - a thumbnail I use on the page for the day, and a 640x480 pixel (or 480x640 pixel, assuming I haven't cropped or altered the size) image that I've saved optimized for web usage.
A lot of the images I doctored using Photoshop Elements, a trimmed down version of Adobe Photoshop. My most frequent adjustments were: "Crop", "Adjust Light & Shadows" to cope with the extremes of light and dark, "Auto Contrast" and "Auto Levels". I've also occasionally run the image through an app called "Noiseless" which degranulates the images I've had to really lean on to bring out.
If you'd like the high resolution image, drop me an email (MarkTKing mac.com) and I'll either email you a copy or set up a page where you can download the image.

Indochina