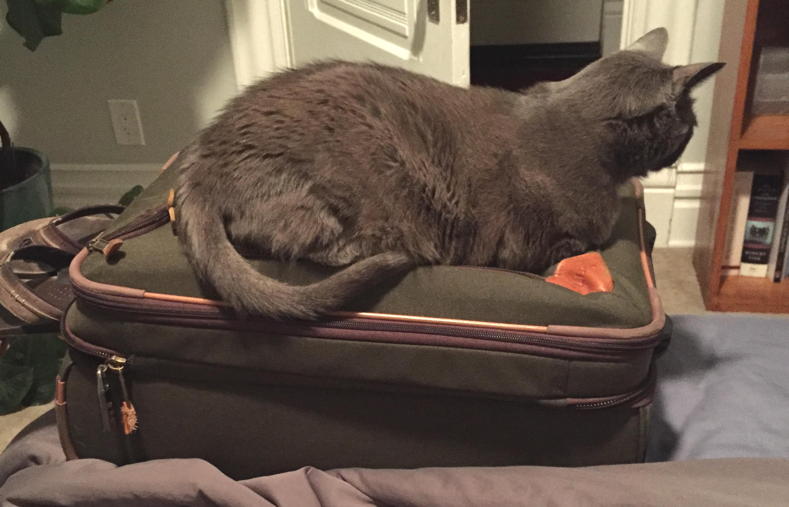 Normally, I show one of our cats helping out by relaxing on a suitcase, but this is
Kathryn and Ghassan's cat Maya, at about six in the morning on the day of our departure.
From the beginning of our trip to
our departure from LAX Airport
The itinerary began with our flying to Los Angeles on Tuesday 1 November, and leaving for Asia on Friday 4 No­vem­ber. This would give us time to connect with old friends: we'd be staying with the mathematical pair Kathryn and Ghassan in South Pasadena and having dinner with them that first night; then visiting Mark's former coworker Dar and her partner Sue in Ventura on Wednesday, and in the evening sitting to receive well-wishers in Green Street Restaurant in Pasadena, one of our favorite places when we lived there.
Then we would visit Thursday with our dear friend Clarli during the day and have dinner with Mark's old boss and mentor Jeff at Bistro 45. Then a fairly early flight out of LAX on Korean Airlines on Friday would send us winging across the Pacific.
My journal for 1 November says, «Since our flight was not till mid afternoon, our plan for today, Tuesday, was to get up at the usual time, and to save having breakfast dishes and pans to wash, we would walk around the corner to the Uptowner, a break­fast-and-lunch counter joint. Their opening time is 0630, but when we got there at 0645, the place was dark and dead. So we, along with another early-bird couple, walked back westward to Hamline Avenue for breakfast at the Colossal Café, a place we've had breakfast at before, and have been unimpressed by.
«Remaining unimpressed, we walked back home fo finish off the packing… We had ordered our cab for 1215, but since it was there by 1200 and we were ready, we hopped in.
«This time, we decided to pack light and carry the bags onto the plane — I've left my Canon DSLR at home with all its varied lenses, the totality of which is disconcertingly heavy. Instead, I have the little Hasselblad Stellar, a point-and-shoot, which has a superb Zeiss lens and produces raw files of 20-meg size. It won't do wide-angle, and it won't do telephoto, but I'm hoping that it will prove adequate to the touristic task.»
We got in to South Pasadena around eight at night, and took our hosts Kathryn and Ghassan out to dinner at a place they chose, Mike and Anne's, right there in South Pas. We were pretty tired by then, and went right to bed after the meal.
In the morning, we left early enough to get to Ventura in time for Dar and Sue to show us around their new house. It was a real nice place, in a pleasant neigh­bor­hood, but what I was most envious of was their mango tree, as it was loaded with fruit. Green, unfortunately. Sue stayed home to work while Dar and Mark and I walked around the neighborhood, where I took the two pictures to the right.
Dar worked at the same company as Mark both in LA County and in Minnesota, and I think that Mark not only likes Dar a lot but feels a certain gratitude to­wards her. I find both her and Sue to be loads of fun.
The next chap­ter in the story of our whirlwind visit to Los Angeles County was an evening at Green Street. Since I couldn't think of any other place where we might get together with an unpredictable number of people, I checked with the management of Green Street and e-mailed a bunch of our friends telling them that Mark and I would be sitting at the bar in the hope that as many of them as possible would stop by to say hello. I think there were about twenty who showed up, and it was loads of fun. I'm afraid I was so busy talking that I didn't take any pictures; but Mark had more presence of mind, and allowed me to use a couple of his. I also am afraid that none of the snapshots here are particularly flattering — I'm reminded that my grandmother complained that most pictures of her made her look like Belle Gunness, a famous serial murderer of the late 1800's.
But we did have a great time, and I was glad to see those people who showed up, sorry about those who sent regrets.
The next day, Thursday, would be our last, before our flight out. Our terrific friend Clarli is not able to drive by night, so we told her that we would stop by around midday to see her. We chatted for a while, and then went out to a local restaurant in Eagle Rock for lunch with her. We also got the bonus of seeing and chatting for a while with Clarli's daughter and son, Chris and Ron. It was Chris's hus­band Paul who did all the spectacular work on our house in Pas­a­de­na: the deck, the opening up of the back bed­room to the deck and garden, and the shifting about of a number of the doors in that bedroom and the laundry.
The final event Thursday was to be dinner with Jeff and Amelia, but she was feeling under the weather, so that it was just the three of us at Bistro 45. It was Jeff who hired Mark to the job at Alpha that took him away from Providence and to Los Angeles, with me following a year after. Jeff has a broad view of the biotech industry, and Mark is always glad to hear Jeff's suggestions for possibilities of advancement. For my part, I just find him a hell of a nice guy, and the fact that he's an excellent photographer and an astronomy buff makes him even more entertaining. It was all talk that evening, so no pictures.
We got up early — neither of us sleeps well before traveling — and after breakfast, we were ready to go. My journal says:
«We got to the Tom Bradley terminal just at 0900, and after a bit of uncertainty with the ticketing kiosks (wouldn't accept our passports) we were ticketed and into our waiting area in no time at all.
«The first leg of the flight was to Seoul, thirteen hours more or less, and we were more than adequately fed, with complimentary wine ad libitum. Since our flight left at 1540 PST, we arrived about 1600 Seoul time.» (But since we had crossed the International Date Line, it was now the next day, Saturday.)
Saturday was a short day for us, but it's covered on the next page.