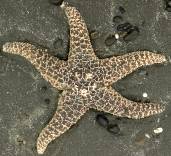 A photographic account of our trip to the Pacific Northwest in August, 2005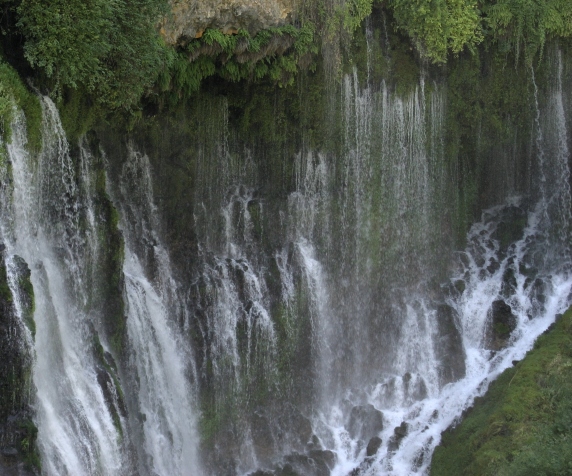 Burney Falls, Burney (Shasta Co.), California
The centerpiece and motivation for the trip was a walking tour in Olympic National Park that was organized and run by Country Walkers, the company that also organized our tour in Chile last year. Rather than flying, though, we drove, necessarily taking rather longer to get to the hotel in Seattle where our group was to rendezvous. So, instead of a couple of days' worth of getting-there pictures, we have here not only the pictures from the Park and the Walk, but those taken during five days' travel to and four days' travel from our main objective.
As with the Chile pictures, I've put almost all up in two sizes, the original 1536 by 1024 pixels, and half-size, 768 by 512. You can get the half-size by clicking on the thumbnail representation or from the "small" link, the full size from the "large" link: I hope it'll all be self-explanatory. Mark and I have cross-links between our separate sites, and you can compare our differing visions of the same scenes. As of now, however, I'm a little farther along than he is.
And finally, a word about browsers: I'll be testing this page out in Opera, Safari, Netscape ( = the aol browser), Mozilla, Firefox, and Internet Explorer, so that it should look all right. But if you observe any unexpected strange behavior, please contact me: jonathanlubin « at » mac.com —I've noticed that the results are least good in Internet Explorer, so perhaps I can say that I recommend another browser than that.
The pictures:
August 9, when we drove from Pasadena to our first stopping point in Mammoth Lakes, CA.
August 10. We continue our northward trip, through Reno, to Burney, CA to catch a spectacular waterfall, and from there to Klamath Falls, OR.
August 11 and 12. Not such a long drive on the eleventh, to Walla Walla, WA, where we stayed an extra day in order to taste wine after wine in winery after winery.
August 13. Not too much driving today, either, going from one corner of Washington to the other, winding up in Seattle in the early afternoon. Then we did touristy things, including going up to the top of the Space Needle and eating supper there.
August 14. All the members of the group meet in our hotel's lobby, and drive by van first to Montesano for a short walk and lunch, then drive a bit to a jumping-off place for a three-mile walk in the Park to Quinault Lodge.
August 15. A nice walk along the Quinault River, and Ray Cannata got chance to do some fly fishing.
August 16, first part. First, a short walk in the Quinault area, then a drive along US 101 to a point on the coast a couple of miles south of Kalaloch, and from there along the beach to Kalaloch Lodge.
August 16, second part. After lunch we walked a little way up US 101 to plunge once again into the rain forest. Back to the Lodge, and from there to the shore for a walk northwards.
August 16, third part. After supper, a bunch of us sit around a fire on the beach and laugh and sing.
August 17. We take a look at a huge cedar, drive to the Hoh River Valley for yet wetter rain forest, and take a ride downstream on a raft through some rapids of the Hoh.
August 18, first part. Today we drive northwards and back to the coast for a walk along the beach, unfortunately not at low tide.
August 18, second part. From Rialto Beach on the coast, we drive after lunch to a trailhead in the forest for a more serious walk, and afterwards drive farther along to Lake Crescent.
August 19. This day, a short but tough climb up the Switchback Trail to Hurricane Ridge, where the hike continued for a few miles, to be followed by a great lunch prepared by Steve, and finally a banquet at the Lodge.
August 20. A jaunt to Marymere Falls before breakfast, then a drive to Port Townsend, and from there back to Seattle via Bainbridge Island and ferry.
August 21 and 22. Relax in Seattle on the twenty-first, drive to Vancouver on the twenty-second.
August 23 and 24, with a coda for the following two days. Spend an enjoyable day and a half in Eugene, Oregon with Laramie and Theodore Palmer—he's my former office-mate from grad-school days.

Mark's page is up and running.
By clicking on the sign at the right in any particular page, you can get to the corresponding day of Mark's narrative.
---
Return to my home page. This page most recently updated 051112.