We were looking forward to a trip to Costa Rica with powerful expectations of seeing loads of natural life that was completely different. I'm not a birder by any means, but plants of all sorts fascinate me, and I have a long list of exotic animals that I'd like to see in the wild. Lots of these are to be found in Costa Rica, so I was eager to go.
Mark made the reservation with Country Walkers very early in the game: over a year before the trip was to happen, I believe. Then he arranged for our hotel for staying in at the beginning and end of the walk: the Grano de Oro in central San José. And this was a marvelous choice: nineteenth-century-elegant in appeareance, and perfectly modern in convenience. With a fine restaurant, too.
The pictures on my pages listed here were taken in various sizes, from 1536 by 1024 pixels to twice that in each dimension, but in all cases plenty enough to overflow most people's computer screens. I have put them up in two sizes: the above-specified ("Big"), and in half-size ("Small"). In almost all cases there'll have been some loss in quality because of compression, to prevent the files' taking forever to load. Anyone who is interested in getting the original file of a particularly interesting picture should just e-mail me at:
jonathanlubin at mac dot com.
You view the half-size picture by clicking on the thumbnail, and in the text there are links for the half-size and the full-size—in all cases, you return to the page you had been in by hitting your "back" button.
Each of my pages is keyed to Mark's page of the same date, and you can go to his page by clicking on the icon that appears at the bottom right of your browser window. Unless, perhaps, you're making the serious error of using Internet Explorer—that browser, or at least earlier versions of it, is notoriously noncompliant to established standards, so I can not guarantee how it will show these pages. I do check their appearance in most of the browsers available for my computer.
The first page covers our travel to San José on December 17 and our first day there.
A full day in San José, December 18, but few pictures, since I didn't feel comfortable walking out in an unfamiliar town with a big camera around my neck. But we did do a little museuming.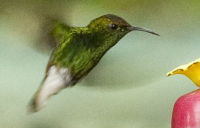 Our first walking day, Saturday, December 19, started with a bang: a trip to a butterfly farm where I took the picture at the top of this page. But we did much more than that, and you can read all about it on Saturday's page.
Sunday, December 20 was very rainy, and I took no pictures till late in the day when we came within camera range of a troop of howler monkeys.
A busy day, Monday, December 21, saw us walking in the relative devastation from the eruptions, taking a boat trip across a lake, and more.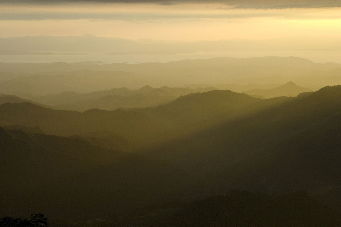 The high point in a tour with many high points, December 22 (first part, second part, third part) was the day we walked in the rain-forest canopy along high bridges spanning heavily vegetated valleys. We ended the walking day by admiring the sunset to the right.
The next day, December 23, we traveled from the mountainous spine of the country down to the Pacific coast, but not before we spent some time in the Reserva Biológica Bosque Nuboso Monteverde, the real cloud forest.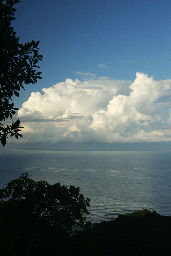 Thursday, the day before Christmas, we took a nice walk in the Carara National Park, but for reasons I'm not sure I fully understand, I took relatively few pictures there. But I do show some spectacular pictures of morning skies. Go and look!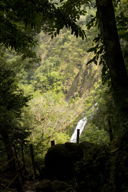 Friday, Christmas Day, I didn't take many pictures either, but the reason is clear: the walk was too tricky, with a steep climb down to a very nice waterfall. There are pictures of our festivities afterward, including Christmas Dinner, though.
Saturday and Sunday, the last two days of the trip. Things wind down and we make our farewells.