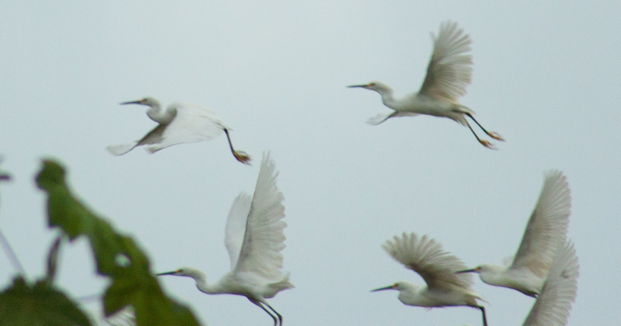 Great Egrets taking flight from a tree on (in) the Ucayali,
whose confluence with the Marañón creates the Amazon.
Twelve days in Perú, April 2015
Once upon a time, maybe two years ago, we were think­ing of signing up for a Country Walkers tour in which the main feature would be a river-boat cruise on the upper Amazon. But something far better came up for 2014: the in­vi­ta­tion from Cindy and Mike to join them in a two-week trip to Japan. We would wait till next year to go to Perú, we told ourselves. But in the 2015 brochure, no trip to the upper Amazon was listed. Mark went into plan­ning overdrive, and by means of a seemingly endless suc­ces­sion of e-mail exchanges with Adventuresmith, put to­geth­er the very fine expedition to lands new and ex­cit­ing, as you see here.
When you go to South America, you don't just pack a couple of days before. But I start these pages on Sunday, April 12, when we were already in the throes of jamming stuff into suit­cases.
Next day, April 13, we were on our way, but still not taking many pictures. But see what I have to say about our travel anyway.
Tuesday, April 14, we finally were tourists, walking around Lima and visiting an amazing (and originally private) archeological collection of ceramics, fabrics, and metalwork, most of it not merely pre-Columbian, but pre-Inca. Take a look.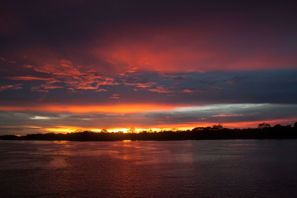 Wednesday, April 15, was mostly a travel day, and I took very few pictures. But wrote enough words in my journal, and you can read them.
On Thursday, April 16, we walked in the jungle, I swam in the Amazon, and both Mark and I took lots of pictures, like the sunset to the right. You can see a se­lec­tion of mine on the page for this day.
Friday, April 17, pretty much more of the same, but I got some halfway decent pictures of birds, as well as some of the famous giant waterlily Victoria, some monkeys, and a Caiman Lizard. Look them all over on the page for the first half of this day.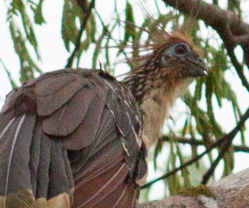 Afternoon of April 17, some relatively nice pictures of the astonishing Hoatzin, which had disappointed me the day before by escaping my lens. You see him (her?) to the right. We could also get up very close indeed to a sloth, but none of us could tell which part of the beast we were looking at. And we caught a Spectacled Caiman and held it close enough and still enough for pictures. Check them out.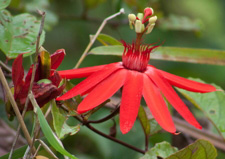 On Saturday, April 18, we went out before breakfast, had our meal on the water, and got more pictures after. Some of these pictures are shown on the first page for this day. In the afternoon, we met a lot of mon­keys. Find out what we saw.
Next day, Sunday, April 19, was our last on the Delfin II, and we got pictures both on water, and after landing in Iquitos, on land. Take a look.
On Monday, April 20, we visited some of the most important Inca sites in the Cusco area, and visited a few notable places in the city as well, including the Museo del Pisco, which isn't what it sounds like, but a nice bistro that specializes in this Peruvian specialty. Check out the day's adventures.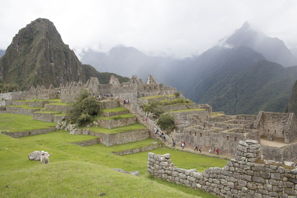 Next, Tuesday, April 21, we visited the well-known tourist sites of Pisaq and Ollan­tay­tam­bo, bought some serious al­pa­ca-wool sweat­ers, had an interesting lunch, and got settled in a fabulous hotel. Read all about it.
On Wednesday, April 22, we got to Machu Picchu, and took more pictures than you can count. It's only a fraction of those that are to be seen, but take a look.
The next day, Thursday, April 23, it was back to Machu Picchu for a short visit. Maybe not so many pictures, but many of them were excellent. See what we saw.
Friday, April 24 would be our last day in Perú, though terminated by an overnight flight to Newark, so that the trip itself did not end till the twenty-fifth. We wandered around Cusco a bit, and watched a clearly patriotic gathering for a while, and I took the opportunity to take a mass of pictures of beautiful Peruvian faces. Take a look.