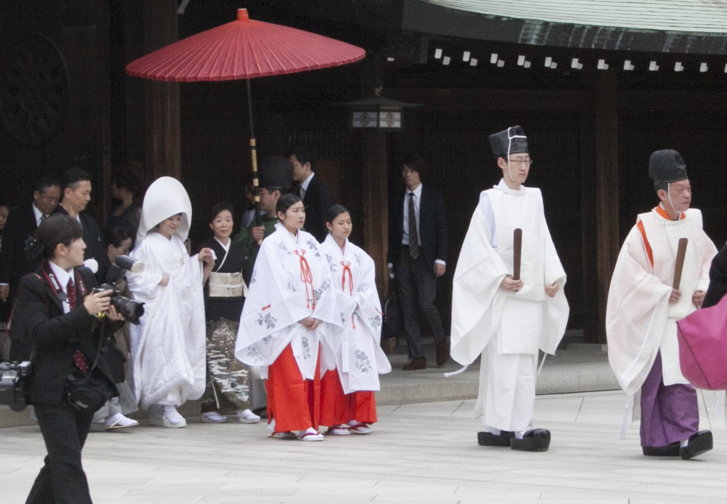 A Shinto wedding in Tōkyō that we happened to see on 20 May. Priests, then bridesmaids,
then bride in white, mother in dark kimono, then groom obscured wearing dark kimono.
Two weeks in Japan in May 2014
Mike and Cindy's suggestion that we might hitch a ride with them and Mason, paying our own way of course, was too good to be true. I had spent three weeks in Japan visiting my brother and his family in 1971, and have always wanted to go back. Mike's incredibly detailed plan­ning meant that we always knew where we would be going, where we would be staying, and what train we would be taking to get there. Armed with Japan Rail Passes bought while we still were in the US, we got the feeling that travel was painless and cost-free. All trains but one were on time, and we never hit the famous rush-hour crushes in Tōkyō even when we were taking the subway there. It was a glorious two weeks.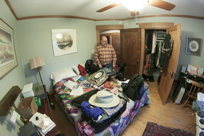 A long preparation (not even counting the agony of packing that's shown to the left), from Friday 16 May to Sunday 18. You can read all about it.
We arrived at Narita Airport in mid afternoon of Monday, 19 May. and made our way by public trans­por­ta­tion to our ryokan in Asakusa, from which we did a little exploring, and that included finding food and drink, but not in that order.
On Tuesday, 20 May, after breakfast we did a number of touristy things, but in the afternoon, we had an excellent session with a docent from Context Tours, but you'll have to read all about that on the page for that day.
Wednesday, 21 May was a rainy day, and so I have rather few pictures. But we saw an important Buddhist shrine, got to a big fish market, and spent the afternoon at the Edo-Tōkyō Museum.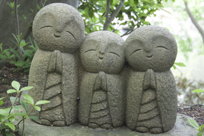 Thursday, 22 May, our last day in the capital, but even with the travel it was a full day, lots of things happening, including making a visit to a huge Buddha, but you'll have to read all about it.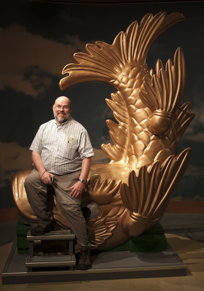 Friday, 23 May, after train travel, we spent a whole day in Nagoya, visiting a number of interesting places, including the (reconstructed) Nagoya Castle. We also had an elegant lunch at a res­tau­rant connected to the Noritake ceramics company.
Saturday, 24 May, a beautiful train ride (not pictured!) to Takayama, and thence by bus to the Hida Folk Village, which was a great way to spend the morning. After, we explored Takayama, where we sampled a lot of sake (not pictured, either).
Sunday, 25 May, the market in Takayama, then to Kanazawa, where we walked around in a notable garden.
Monday, 26 May, a day that was disappointing for several reasons: the museums we had been planning to visit were closed Mondays, and there was constant and intermittently heavy rain throughout the day. But we had a surprisingly interesting trip to something I thought I had no taste for, and a fine meal gave a pleasing end to the day.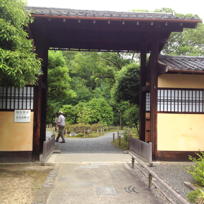 Tuesday, 27 May, we travel to Kyōto, the ancient capital, and do some typically touristy things, in­clud­ing a visit to the Shosei-en Gar­den, but much more. There's a second page for this day as well, de­tail­ing our taste of Kyōto night life.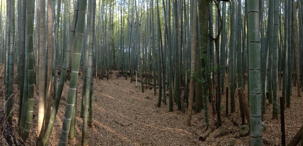 Wednesday, 28 May, A full day of many temples, the famous Bamboo Forest in the Arashiyama district of Kyoto, and a delightful hour of relaxation along the Ōi River. (There's also a second page.)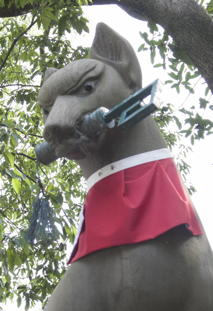 On Thursday, 29 May, we visited an unusually large number of unusually interesting places, ending in the amazing Golden Pavilion. (Again, a second page.)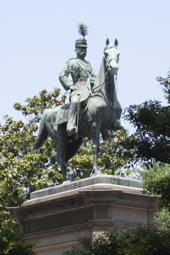 The next day, Friday, 30 May, we got to Nara, the capital of Japan for less than 100 years in the eighth century. But on the way, we stopped at an amazing shrine in Inari, to which I devote the first page for this day. Then Nara itself is on a second page.
Back to Tōkyō the next day, Saturday, 31 May, when we went to Ueno Park, and wandered a bit before meeting up once more with John Tran, through whom we got a guide to the National Museum, located in the Park. Not a lot of pictures this day, but many words for you to read.
And Sunday, 1 June was our day to return home. No interesting pictures, no narrative, just a few closing words, especially remarking on the wonderful planning by Mike that made this fabulous trip so successful.