Pictures from our trip to New Zealand
November 2007
Well, it looks as if every Spring, Mark looks over at me from his computer desk and asks where our next Big Walking Trip shall be. He'll have the latest catalog from Country Walkers in hand, and will have already picked out a bunch of places that he likes the looks of and thinks I might be interested in.
This year, the trip that tickled my fancy the most was the one to New Zealand. Mark was equally interested, so we made preliminary arrangements. One problem was that at the time we contacted CW, we were the first to express interest. And until enough people signed on, the folks in Waterbury could not give assurance that the trip would happen. We told them we wanted to go, and we held tight, without making air reservations, till we finally heard that there now were enough people signed up.
Seven did sign up: a much smaller group than we have ever joined before—and our guide Nicky Snoyink would make eight of us. This did change, as you'll see if you read on, but we made our reservations with New Zealand Air for an arrival date of 3 November, two days before the tour was to begin, and we were set!
The pictures on my pages listed below were taken in various sizes, from 1536 by 1024 pixels to twice that in each dimension, but in all cases plenty enough to overflow most people's computer screens. I have put them up in two sizes: the above-specified ("Big"), and in half-size ("Small"). In almost all cases there'll have been some loss in quality because of compression, to prevent the files' taking forever to load. Anyone who is interested in getting the original file of a particularly interesting picture should just e-mail me.
You view the half-size picture by clicking on the thumbnail, and in the text there are links for the half-size and the full-size—in all cases, you return to the page you had been in by hitting your "back" button.
Each of my pages is keyed to Mark's page of the same date, and you can go to his page by clicking on the icon that appears at the bottom right of your browser window. Unless, perhaps, you're making the serious error of using Internet Explorer—that browser is notoriously noncompliant to established standards, so I can not guarantee how it will show these pages. I do check their appearance in most of the browsers available for my computer.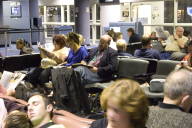 Our first day of travel was November 1, Thursday, when we engaged SuperShuttle to take us to LAX in time for our 10:30PM flight on Air New Zealand.
Our second day of travel was November 3 (we never experienced the second of the month), when we arrived in Christchurch and did a little exploring.
Getting used to New Zealand time, November 4, no pictures, just an account of our day.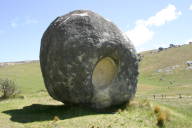 We begin our adventure, November 5. Before lunch, monumental landscape.
After lunch the same day, it was a climb through beech forest till we got above the tree line.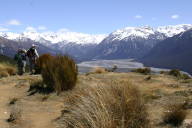 A fairly tough climb November 6, and beautiful terrain.
Drive over the pass to the West Coast on November 7, for lunch in Hokitika, then a nice walk in Hari Hari, and then on to the little town of Fox Glacier.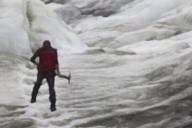 The most amazing experience today, November 8, to walk here and there on the Fox Glacier. And later in the day, a fascinating walk in rain forest.
An old overgrown cattle trail was our hiking path this day, November 9, and we finished the day by driving to Lake Moeraki.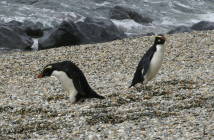 This day, November 10, I took about 235 pictures, almost all of them of Penguins!
Varied walks today, November 11, and great fish and chips (but no pictures of that).
A nice vigorous walk today, November 12, great views of the Rob Roy Glacier and glacial waterfalls, and friendship with a couple of keas.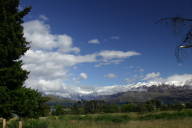 This, the last official day of the tour, November 13, started with a walk along Lake Wanaka and the Clutha River, and had us lunching at a winery before our drive to Queenstown, where we all got together for a festive meal.
Milford Sound was our destination this day, November 14, and the purpose was to take a trip down the Sound to the ocean and get the greatest possible number of opportunities to photograph spectacular scenery.
Our next-to-last day, November 15, was spent winding down and not doing much of anything.
The trip ends here, November 16 and 17, with our being supereager to be home, and getting there.
---