As I said in the main travel page, the Country Walkers tour in Tuscany was our very first idea, but put off for other interesting places to go to. We figured that the Spring was the right time for walking in Tuscany, but because I had a teaching position at Scripps College for the Spring college semester, any travel would have to be delayed till late May.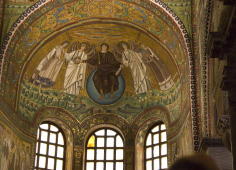 Mark started working on arrangements back in December of 2007, making reservations with Country Walkers for our place in the tour. Then a detailed itinerary with hotels in Venice and Florence for before the tour proper began, and rail reservations. We found out once we got to Italy that making train arrangements from the States was not wise: the prices we paid via the internet were much more than we would have paid if we had just gone to the ticket window in the towns we were leaving from.
This was our plan: get to Venice and stay for a few days, making a day-trip to Ravenna and maybe stopping in on Murano. Then we would get to Florence a few days earlier than the tour was to take off from there, and see a few of the sights there. After the tour ended in Florence, we would take a train down to Rome for a stay of hardly more than 24 hours, but long enough to hit a very few tourist attractions. In all three cities, Mark arranged for us to take part in guided tours where we could learn somewhat more than we would find out from the standard tourist books.
The pictures on my pages listed here were taken in various sizes, from 1536 by 1024 pixels to twice that in each dimension, but in all cases plenty enough to overflow most people's computer screens. I have put them up in two sizes: the above-specified ("Big"), and in half-size ("Small"). In almost all cases there'll have been some loss in quality because of compression, to prevent the files' taking forever to load. Anyone who is interested in getting the original file of a particularly interesting picture should just e-mail me at:
jonathanlubin at mac dot com.
You view the half-size picture by clicking on the thumbnail, and in the text there are links for the half-size and the full-size—in all cases, you return to the page you had been in by hitting your "back" button.
Each of my pages is keyed to Mark's page of the same date, and you can go to his page by clicking on the icon that appears at the bottom right of your browser window. Unless, perhaps, you're making the serious error of using Internet Explorer—that browser, or at least earlier versions of it, is notoriously noncompliant to established standards, so I can not guarantee how it will show these pages. I do check their appearance in most of the browsers available for my computer.
The first two pages, for May 24 and May 25, cover our travel in three steps, from LA to Newark and thence to Rome by air, and from Rome to Venice by rail. Few pictures and little talk, but that's where the adventure starts.
Venice and Murano. Today, May 26, we walked about Venice and took the water bus to Murano, where we made the obligatory purchases. Real tourists!
Venice, with an in-town walking tour. Today, May 27, we had a walking tour that Mark had arranged a month or so earlier. Fascinating, but most of the places we visited did not allow photography. Read about it!
Ravenna! Impossible to talk about without using exclamation points, and it was our destination for today, May 28.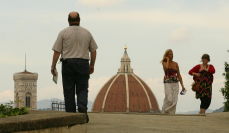 Next, on to Florence, where we would have a three days' stay before we started on the walking tour. Read all about what we did on May 29 and 30.
Second full day in Florence, lots of art, May 31.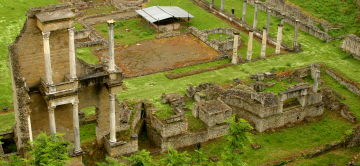 The walking tour begins, June 1, and the day ends in the fabulous tourist destination of San Gimignano.
Volterra was our big destination this day, June 2, a town with a history going all the way back to the Etruscans.
A rainy day, June 3, when we visited the interesting abandoned hill town of Castelvecchio, but unfortunately I got no pictures there.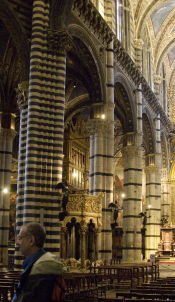 Siena Cathedral
A varied walk with loads of opportunities for photography today, June 4. We ended the day in Radda in Chianti, our next home for a few nights.
A walk to Volpaia today, June 5, and we had an amazing and huge meal there. Then we bussed back to Radda, to shower before a bus trip to Siena.
Siena was so astonishing that I've given it a page by itself.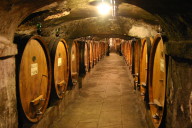 Walking on the last day of the Country Walkers tour had some nice sights; the later part of the day has the next two pages devoted to it: our visit to the winery of Badia a Coltibuono and the wine-tasting we did there, and our festive dinner immediately after that.
The next day was devoted to traveling, and I took no pictures at all, but on Sunday, June 8, we walked around Rome, and did an instructional in-town tour of architectural sights from the period of the Republic.
Tuesday, June 9 was our day for traveling home. Few pictures, and little talk, but that was the end of this fine trip.