2007 New Zealand Travelogue

The picture above are Fjordland crested penguins (Eudyptes pachyrhynchus), also known as Tawaki in Maori. The photo was taken on November 10 along with a multitude of of other penguin shots.
Here is my narrative describing our trip to/from and walking tour in New Zealand. I've linked the corresponding pages from Jonathan's website so that folks can jump back and forth between them.
The background on the webpages for this trip is rimu bark. The rimu, a podocarp of genus Dacrydium, is also known as red pine. The bark is gray, and I've taken the liberty of altering the color, but not the pattern, to match the color scheme of this site.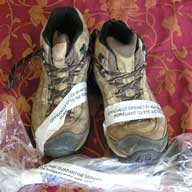 01 to 04 November
LAX to NewZealand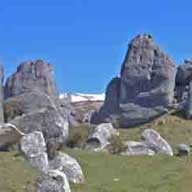 05 November
Kura Tawhiti,
Lyndon Saddle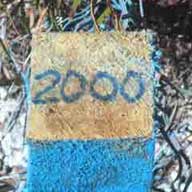 06 November
Arthur's Pass,
Bealy Spur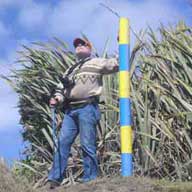 07 November
Hokitika,
Harihari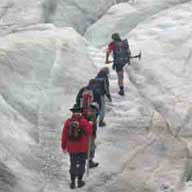 08 November
Fox Glacier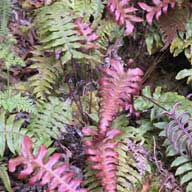 08 November
Lake Matheson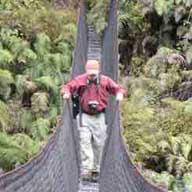 09 November
Haast-Paringa Cattle Track, Lake Moeraki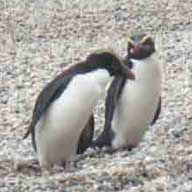 10 November
Lake Moeraki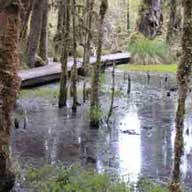 11 November
Ship Creek, Haast,
the Bridle Track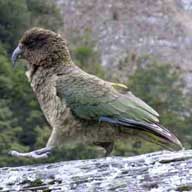 12 November
Wanaka,
Rob Roy Glacier Track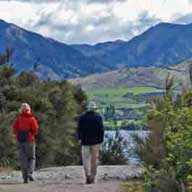 13 November
Wanaka, Gibbston Valley, Queenstown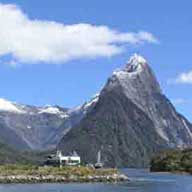 14 November
Milford Sound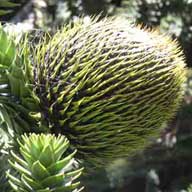 15 to 17 November
Queenstown to Pasadena
The images on the site, unless otherwise noted, were taken either using an Olympus C8080 Zoom (3264x2448 pixel JPEGs), or an Olympus Stylus 790 SW (3072x2304 pixel JPEGs). I usually had a circular polarizing filter installed on the C8080 on all but a few pictures. The image size of the resulting JPEGs are about 3.5 MB each. I burned the unedited version of all images onto a DVD before editing them.
Because the 790SW has an incrediblely short focal length available, most of the flower close ups were shot with that camera. The camera, being pocket-sized, was also used at dinner and traveling when I didn't want to pull out the big camera.
On this site, I've whittled the image size down to two sizes - a thumbnail I use on the page for the day, and a 640x480 pixel (or 480x640 pixel, assuming I haven't cropped or altered the size) image that I've saved optimized for web usage.
A lot of the images I doctored using Photoshop Elements, a trimmed down version of Adobe Photoshop. My most frequent adjustment was "Adjust Light & Shadows" to cope with the extremes of light and dark, "Auto Contrast" and "Auto Levels".
If you'd like the high resolution image (1 - 2MB each), drop me an email (MarkTKing mac.com) and I'll either email you a copy or set up a page where you can download the image.

New Zealand