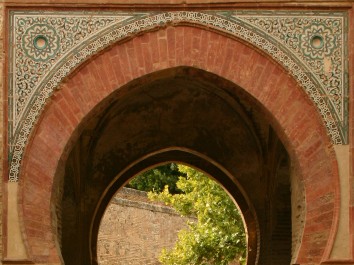 Pictures of our trip to Spain in October and November of 2006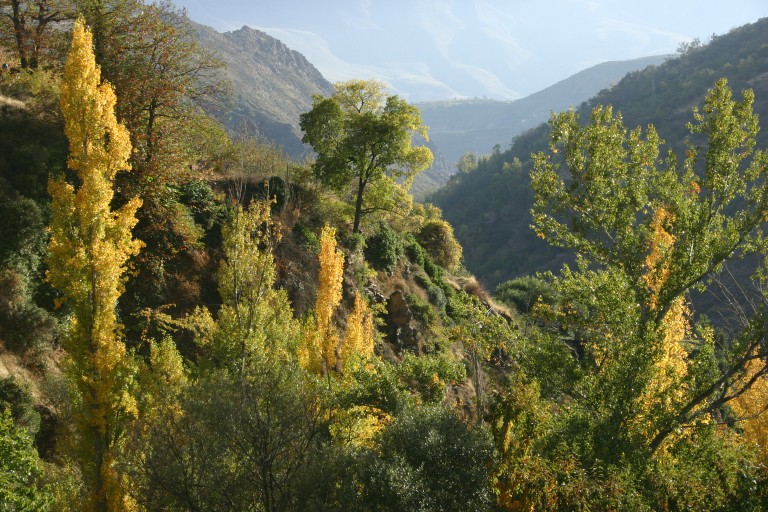 Returning to the village of Bubión, late in our first day of countryside walking
I suppose it's not cool to say that you conceived the idea of doing something because of a fantasy or science fiction book you read, but a book of Guy Gavriel Kay set in a fictionalized medieval Spain, where the tensions and interactions among Muslims, Christians, and Jews drove the plot, was what started Mark and me thinking that we ought to get to Southern Spain.

All of our previous ambitious trips have been done with a walking tour by Country Walkers as centerpiece, so we saw no reason to do this one any differently: we've been very satisfied with the two previous such tours we've taken. This tour was to start in Granada on Monday morning, October 23, and run till Monday morning October 30, in Sevilla.

Mark's plan for the trip was that we would get to Granada a few days early so we could see the Alhambra on our own, even though we knew that the tour would involve a guided trip through parts of that complex; and afterwards spend a little more time in Sevilla before going out on our own to Córdoba and Toledo. A final fraction of a day in Madrid should allow us to get a taste of the Prado, even though we knew that a full meal at that banquet would take much more time than we'd be allowing ourselves.
About these pages: I check them out on all the browsers I have on my Macintosh, but I don't have Windows emulation software. Thus I can not guarantee their correctness on all browsers, and in particular I am fairly confident that Internet Explorer for Windows will not show them correctly. IE is a notoriously non­com­pli­ant browser, and I urge you to view these pages with any other browser than Explorer.
Most of these pictures were taken in my camera's "small size", 1536 by 1024 pixels, plenty big enough to overflow most people's computer screens. I have put them up in this size (except when I cropped out extraneous detail), but also in half-size, 768 by 512 pixels. I have used various degrees of compression, but in all cases, the pictures are not of as high quality as what came out of the camera: that would make your loading of them take far too long. If anyone wants an original, comparatively uncompressed, file, I'll be happy to send by e-mail: the file-size runs between one and two megabytes each.
You view the half-size picture by clicking on the thumbnail, and in the text there are links for the half-size ("small image") and the full-size ("large image") — in all cases, you return to the page you had been in by hitting your "back" button.

Each of my pages is keyed to Mark's page of the same date, and you can go to his page by clicking on the icon to the right. These icons always appear at the bottom right of your browser window — except perhaps if you're using Internet Exploder for Windows.
The pictures:
October 18–20, our travel days. Only one picture, and that one boring, but lots of talk.
October 21, our first day in Granada.
October 22, in which we did a walking tour to look at buildings in Granada outside the Alhambra.
October 23, the first day of our Country Walkers tour, in which we met our fellow walkers, and got a guided tour of the palaces of the Alhambra, and later took a bus to Bubión.
October 24, a serious and strenuous walk in the countryside.
October 25, a day in which we walked up to the village of Capileira, then down past Bubión to the lower village of Pomponeira.
October 26, in two parts—first and second—a long walk in the Parque Natural Sierra de Grazalema, ending with a nice rest in the town of Benamahoma, and after our return to Grazalema, a festive dinner.
October 27, a rainy day of walking, from Grazalema to Montejaque. Then a bus to Ronda.
October 28, walking around Ronda.
October 29, arrival and preliminary sightseeing in Sevilla.
October 30, last day of the Country Walkers tour. And we did some touring on our own in Sevilla.
October 31, we travel to Córdoba, get settled, and do some late-afternoon walking around.
November 1, we walk through the Alcázares Reales and the Grand Mosque, with its infixed Cathedral. Our last day of picture-taking!
The last days of the trip, November 2 through 5, marked by my achieving a life-time ambition to see all the Bosch paintings in the Prado. We took almost no pictures in these days, however.
---
Return to my home page. This page most recently updated 070421.