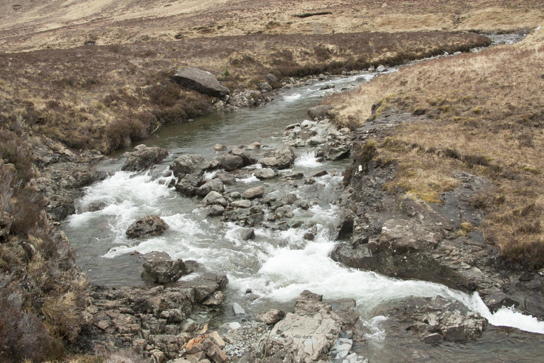 A stream in Glen Sligachan, this picture showing the sere
conditions at this early (!) time of the year (big image, small).
Sunday, 5 May: finally walking on Skye
Up at 6:30 for an eight-o'clock breakfast, I had a simple meal of orange juice and pancakes. These, I fear were not up to my standard: I should have stuck to kippers!
Departure was at nine for a long walk in Glen Sligachan, advertised as being boggy, wet, and of three hours' duration. We had to ford many little streams, and I got my shoes thoroughly wet, the socks as well. In fact, my shoes never dried out fully, and by the end of this trip, they were so rank and reeky that I left them in the trash bin of our last hotel.
I had naively expected Skye to be verdant and fertile. But its beauty rather is stern and bare, at least in this part. Now, the fifth of May, winter had not yet departed. No deciduous trees were in leaf, and when I aske Pol what these little scdrubby plants were, with their blossoms just beginning to form, he said, "Heather. It's still in its winter state." This day, with the gray weather, the dominant color was definitely brown in all its shades. In the block of pictures to the left, you see one of our group—maybe Martha— admiring one of the many waterfalls that we saw (big image, small). Of these I made several iPhone video clips, and one is directly below. But back to the snapshots to the left: in the lower one, Stuart is helping people ford a stream. The rocks we were to step on were not usually extremely slippery, but it was still a tricky deal. In that picture, most of the people are identifiable in the big image: farthest away, looking to the right, is Jamen, and below her on the trail is Mark. Next down the trail is Martha, then Ed, then Mary. I think that that's Joe behind Stuart, who is helping Bill across the stream. And that might be Cari facing away from us at the right edge of the picture (small image).
A waterfall in Glen Sligachan. In all the movie clips on this page,
I've set the sound to be initially muted if it seemed to me that
the roar of the wind whistling around my iPhone overwhelmed
the sound of the rushing water. ( 26-second clip)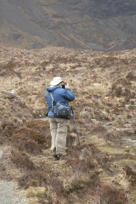 Ah, the Fairy Pools! My journal says nothing about them, but before we set out on this walk, the guides told us that one of the features would be that we'd walk past them, whatever they were. And in fact, when we hit them, I was so oblivious that I duly took pictures, but didn't realize that these were among the big attractions of the jaunt. The water falls down into fairly deep bowls, in fact deep enough to swim in. It was far too raw and windy this day, nobody would have dreamed of getting into that water, blue and pure as it was. But at least I do have a couple of video clips of them.
The downstream Fairy Pool ( 28-second clip)
The upstream Fairy Pool.
( 12-second clip)
After a climb that was fairly rigorous, we paused for an optional split into two groups, and most of us chose to continue on the loop rather than go back and retrace steps. The loop coninued the climb, even more boggily as Stuart threatened but contrary to his threats, it was really not as difficult as the first lap. But there was serious wind throughout the trip. My won­der­ful new Tilley hat blew off in the direction of a rushing stream, and I had visions of it bobbing down and away long out of reach. Fortunately, in the event, it stopped in the lee of a tussock so that Mark could pick it up. From there on, I protected it by pulling up the hood of my raincoat. The wind was so strong that there were even times when I feared losing my balance and footing.
For the block of pictures on the right, upper left, Mark and lots of the others are admiring the fast-running stream that you see (big image, small). This and all the others in the block are wide-angle shots taken with my fisheye lens, so when people look like they're leaning over, they really aren't. Upper right, that's Laurie the driver (I gather that she's sometimes a guide for this tour, so in effect we had three guides); then Judyann in magenta talking to Joe in blue; behind her, Stuart and then Bill in the far distance, and in yellow I think that's Mary. That would be Roger with his hat reversed, at the edge of the snap (big image, small). Lower left, admiring and taking pictures of a blue sky, (big image, small). And finally, just a picture of genuine blue sky, (big image, small).
At any rate, we walked up toward the ridge and from there on, there was no no more strenuous climbing. Just a long walk: the total came to 6.1 miles. Lunch was at the Sligachan Hotel, where there was a nice selection on the menu. Mark had fried haddock and chips, and I decided to take advantage of the mackerel on the list. This was un­us­u­al­ly good—not at all smelly or oily.
A stopframe movie I made from a fast sequence of 100 quick snapshots.
( 19-second clip)
After lunch, which ended rather late, I went back to to the room, while Mark took advantage of the optional one-hour walk that Stuart offered. I got rested and he got soaking wet: though the main walk had avoided areas of precipitation most skilfully, there was no such luck in the afternoon. Mark does speak very hightly of the experience, however.
Dinner was at the Café Arriba, which purveyed not Latin but Scottish food, though most deliciously, and with international in­flu­ence. I had chicken breast stuffed with haggis—see the comments to the side. I found it very good. But before the main courses, there was a profusion of really interesting appetizers, things to share and enjoy, and with the help of wine, we got very convivial passing these about. No food fights, though.
And then to bed, before another day of walking.