The pictures that you see in­ter­sper­sed among the text can most­ly be seen in two larger versions: a "small image" and a "large image". Links to them should be clear, and you can also see the smaller image by clicking on the thumb­nail. You re­turn to the page you were on by clic­king your "back" but­ton.
As usual, I warn against the use of In­ter­net Ex­plor­er in view­ing these pages. As I un­der­stand it, IE is still not in con­form­ance with in­dus­try stand­ards for browsers. In par­tic­u­lar, I can not guar­an­tee that the se­ve­ral vid­eo clips that I've in­cluded will dis­play cor­rect­ly or even at all on IE, since I'm on Mac­intosh, and IE is no longer being pro­duced for that plat­form. I have checked the pages on Fire­fox, Sa­fa­ri, and Ope­ra, however, and the be­hav­i­or seems to be sat­is­fac­to­ry.
And you really do want to be run­ning Java­Script for these pages, too.
I have keyed each of my pages to Mark's page of the same date. You get to it by clicking on the icon that's at the lower right in all the pages but this one: here it's at the left.
The story is that Michelle Manes, Xander Faber, and Gretchen Sia of the University of Hawai'i at Mānoa organized a Special Session in Arithmetic Geometry for the American Math­e­mat­i­cal So­ci­e­ty's Western Sectional Meeting that was being held there, in Ho­no­lu­lu, on the weekend of 3, 4 March. And when Michelle sent me an e-mail inviting me to give a short (20-minute) talk, I discussed it with Mark, and he said, "I'm going."
Even though Michelle also organized a follow-up conference, also to be held at UHM, I can't say that I thought seriously of extending the math­e­mat­ics another three or four days, considering the other op­por­tun­i­ties nearby. Mark did extensive planning, arranging for each day a guided tour of some kind, mostly involving a few miles' walk. Even when I was to be sitting in a classroom listening to math­e­mat­ics, he would be out and about learning history, ge­o­gra­phy, geology, and more.
We started with an early departure from LAX on Thurday, 1 March, getting into our hotel in Honolulu, the Maile Sky Court, in the very early afternoon. Read about our first day, when we didn't do much but walk around Waikīkī.
Friday, 2 March, we got up early for a hop, via Hawaiian Airlines, to Kaua'i. Mark had arranged a tour through Kauai Photo Tours, and we had loads and loads of opportunities to snap shutters, as you can see.
Saturday and Sunday, 3,4 March was my time at the AMS meet­ing, and I took no pictures except at the very end.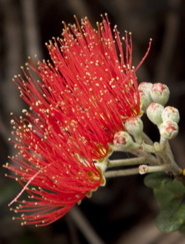 A Lehua blossom
Monday, 5 March, we flew to Kona on the Big Island of Hawai"i and got settled. Not much else.
Tuesday, 6 March, a very fine all-day (and into the night) tour of vol­can­ic sites, with loads of ad­di­tion­al be­ne­fits.
Wednesday, 7 March, on our own for a change, on the rainy side of the Big Island, in the vicinity of Hilo.
Thursday, 8 March, a bit of a disappointment because we had signed on to a tour to the top of Mauna Kea to see the observatories and get a good look at the clear night sky, but this had to be cancelled because of snow! So we did a bit of searching and inquiring, and went for a snorkeling tour instead. It turned out to be a good al­ter­na­tive.
Friday, 9 March, "Dry Forest, Rain Forest", a tour designed mostly for birders, was still very worthwhile for Mark and me.
Saturday, 10 March, "Waterfall Tour: Kohala Waterfalls Ad­ven­ture", a really pleasant group and a great tour besides.
Sunday, March 11, our last day, and we spent it in a sedentary fashion, writing up our journals and enjoying the view. We left early the next day, and were home by Monday night.