To get to Mark's pages, you can click here, or at any time, on the little ca­ri­ca­ture-icon at the low­er right.
As I said in the para­graph on the central travel page, I orig­in­al­ly hadn't been too enthusiastic about the idea of going to Iceland. But "prototype tour" means that it was a try-out for the in­tro­duc­tion of a "Glaciers, Volcanos and Waterfalls" ex­per­i­ence that would take in parts of Iceland I hadn't come close to in 1969.
The pictures on my pages listed here were taken in various dimensions, all really too large to show on pages like this without shrinking them considerably. So I've made them available for viewing in two sizes, "Big" and "Small", approximately 3072 pixels in width (or height, if in portrait aspect) or 1536 pixels, respectively. But in any case, if you're interested in the original picture, I'll be happy to send the multi-meg file by e-mail. My eddress can be found on my home page.
In most cases, you get to see the Small version of an image by clicking on the thumbnail, and in the text or caption there will be links for viewing either the Big or Small version. In all cases, you return to where you were by clicking your "Back" button.
Each of my pages is keyed to Mark's page of the same date, and you can go to his page by clicking on the icon that appears at the bottom right of your browser window.
I guess that a warning not to use Internet Explorer is getting less and less necessary these days. But I repeat it here: IE has not generally been compliant with browser standards, and it's not supported for Macintosh any more, so I have no way of checking that these pages look right in IE. I do check their appearance in standard browsers like Firefox, Opera, and Safari, though.
It's good that we didn't delay, too, since it turned out that we were the last two to sign on to the tour. It happened that the dates of the tour fit very nicely with our hopes of going to Mark's mother's family reunion in Kentucky, so Mark cooked up an elaborate itinerary, conditioned somewhat by the fact that the only flights into Iceland from the United States are with Icelandair, and that line flies only from Boston, New York, and Seattle. So it was fly into Providence airport (via Cleveland); get picked up by the Greene RI family to stay there two nights and be given a lift to Logan; to Keflavík (the international airport serving Reykjavík); do the tour; fly from Keflavík to Boston on the return; do two nights in Greene (and get laundry done); then from Providence to Nashville (via Newark) to drive to Cadiz for the party; back to Nashville; and return home via Houston. That means ten airports total, if you include the two others in Iceland that were a part of the tour.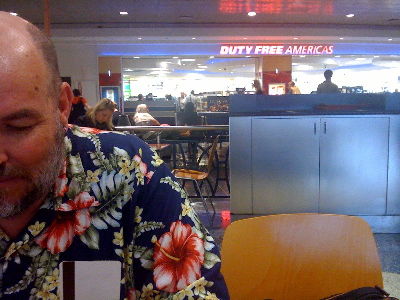 So we start, and you see Mark in the international waiting room at Logan over there to the right; I write about how we started out on our trip on June 13 in the first page of description of the trip.

June 14 was our first day in Iceland, taking in a supple­mentary extension that we had decided to take advantage of. We visited (and got into!) the Blue Lagoon, and after checking into our hotel, we did a walking tour of Reykjavík. Read all about it.
June 15 was the first day of the tour proper, starting out in Reykjavík and ending in Hella, on the banks of the Rang River. On this day, we saw the three most famous attractions of Icelandic tourism, leaving the whole of the rest of the tour for things farther off the beaten track.
June 16, a busy day with so many intereseting snapshots that I've split it between two pages, a first, which takes up everything before our walk on a tongue of the great glacier Vatnajökull, and a second, devoted to the wonderful and exciting walk we had on the ice there.
Today, June 17, we visited a number of amazing places, on a very long walk. Result? Lots of pictures.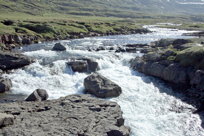 June 18, a full day with lots of driving, dis­tin­guished by a visit to the glacial lagoon Jökulsárlón and a won­der­ful long walk descending to the village of Sey­ðis­fjörður at the end of the day, but also featuring one of the most spectacular meals we had in all Iceland.
June 19, all day in Sey­ðis­fjörður, except for the few who went on a relatively demanding walk with Erling. But Mark and I finished the day with a fine, fine dinner at our hotel's restaurant.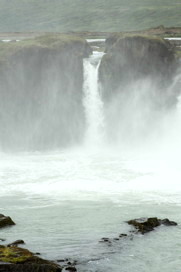 June 20, Sunday, we stopped at three interesting places before our final destination of Mývatn. To the left, Lilja, the farmer at Sæ­nauta­sel.
June 21, Monday, a day for water­falls, and therefore ideal for me. Plus a most interesting and unusual geological remnant.
June 22 Tuesday, last day of the tour, very little walking, we fly back from Akureyri to Reykjavík instead.